Affiliate marketing is the process of promoting businesses' products or services in exchange for a commission on the sale made. As a business owner, nurturing and developing multiple channels for sales and marketing of your products is important for your survival. Globally, affiliate marketing is worth a whopping $12 billion in revenue for brands and if you don't have an affiliate marketing strategy, you're missing out on a golden opportunity for sales and vital branding exposure. 
Affiliate marketing relies on technologies such as Partnerlaunch to provide end-to-end value for vendors and affiliates alike. In affiliate marketing, your product links are tracked for sales using cookies, a dashboard to see how your links perform. Partial completed orders are linked to a sales rep at the bottom of the funnel who will try to convert leads an affiliate generates into a paying customer. Affiliate marketers select businesses based on trends, brand power, utility, and personal preference. It's important to build a deep appeal into all your products as you develop your affiliate marketing strategy. Businesses all over the world rely on affiliate marketers to generate billions of dollars in brand and sales value. Find a few of them in the section below.
3 Businesses That Generate Billions Using Affiliate Marketing by Industry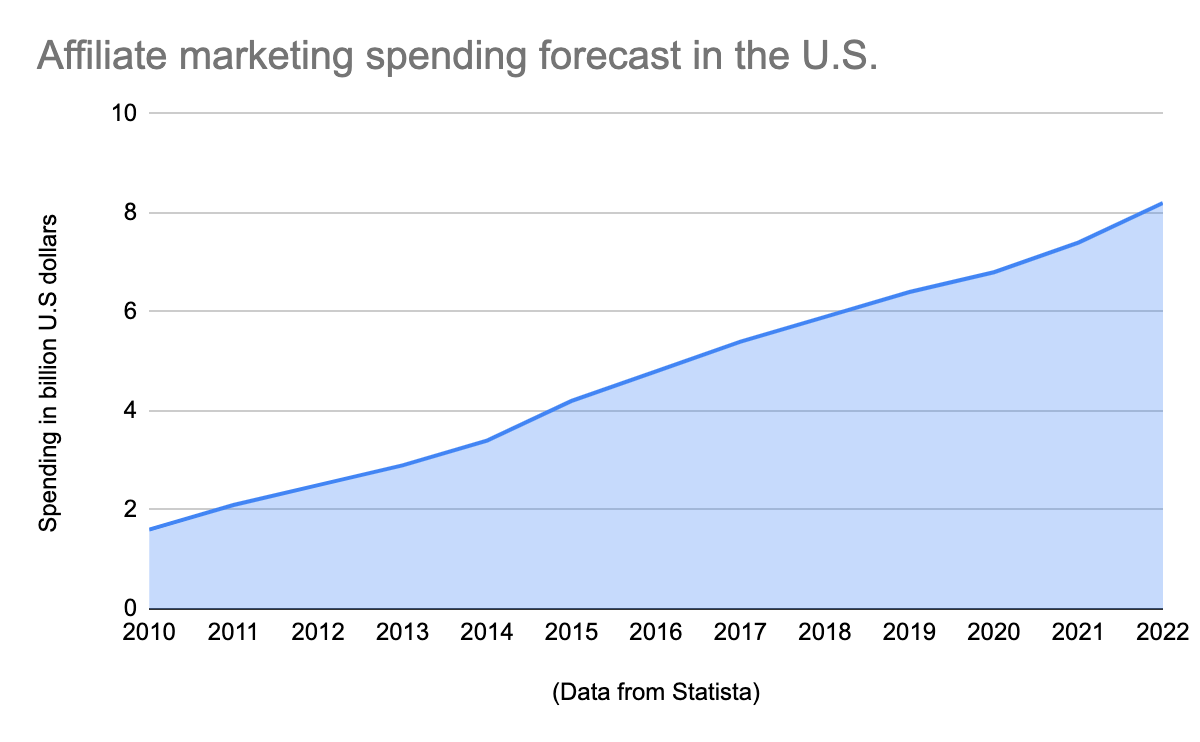 How Insurance companies use affiliate marketing
As you probably know, insurance companies provide value by protecting their clients against the risk of loss based on pre-defined circumstances. Insurance companies utilize affiliate marketing through the help of affiliate media buyers or insurance bloggers. These affiliates earn a commission when a client asks for a quote or buys insurance through their unique referral links. 
Allstate insurance, which is known for its car, home, renters insurance policies, and financial services relies heavily on affiliate marketers to sell its products and services. This company provides a range of life insurance products, and pays their affiliates per lead, before following up the leads by using their call center. They offer a 5-day cookie to affiliates and up to $28 for every pre-qualified lead. In 2019, this company raked in as much as $44 billion in revenue.  
If you run a business that sells insurance policies to businesses or end-consumers, building out your affiliate marketing infrastructure can be a hassle. Partnerlaunch simplifies the process with its interactive user interface, powerful data collection framework, and exhaustive network of affiliates that help you get and give the best value in every commercial interaction.  
How Ecommerce companies use affiliate marketing
E-commerce companies can use affiliate marketing in different ways. They can become a part of a professional affiliate network or build custom systems for making commission payments, and evaluating affiliate performance. Depending on the commercial value of the product, they may decide to pay for leads, clicks, net orders, gross orders, etc. 
A very popular company in the e-commerce space that makes use of affiliate marketing include Amazon. Amazon Inc. has a program called Amazon Associates Or Amazon Affiliate program, which is free for bloggers and website owners. Amazon Associates is a referral program, which pays affiliates a commission when they bring customers to their site through referral links. In 2015, affiliate marketers contributed as much as $10 billion to its balance sheet. 
If you own an e-commerce business, you're most likely grappling with a lot. Operational costs, logistics, and customer fulfillment are a few of the more important aspects of your business. As a result, keeping a diligent eye on your sales and marketing funnel can become a chore. While massive global businesses like Amazon build out their infrastructure for affiliate management, others are more profitable using scalable management tools. 
Because most businesses cannot compete with Amazon, using Partnerlaunch and other tools like it will serve to slash your go-to-market time, reduce customer acquisition costs, and track for the most important business metrics you have. In return, it charges a small monthly subscription to keep your affiliate infrastructure well-oiled and profitable. While others charge per transaction, Partnerlaunch keeps your costs fixed and ensures that your profits can grow to astronomical levels without the burden of data and infrastructure management. 
How SAAS companies use affiliate marketing 
SaaS (Software as a service) companies build and host applications in the cloud, serving their customers remotely. In recent times, many native software companies have adopted the cloud because of its potential to reduce development friction, and improve their value offerings across the board.  
Many SaaS companies use affiliate programs to improve their sales. With affiliate programs, some SaaS companies can generate up to 15-30% of all sales via affiliate marketing channels. Shopify, which is one of the most valuable companies in Canada, offers e-commerce services to businesses all over the world. The company pays its affiliates as much as $58 for each paid customer they acquire. 
Shopify affiliate referrals receive trackable, unique reference handles when they are accepted into the program. They also offer affiliates a lot of content options from video to text and a wide range of multimedia that they can adapt on their websites and blogs. Consequently, affiliates use these unique links to attract or direct their targeted traffic to the Shopify landing page. When this happens, a successful referral gets attributed to the affiliate which results in a commission. 
Shopify thrives by relying on high-quality affiliates such as educators, entrepreneurs, and content creators to spread the word about its products and services. These affiliates help their referral transit from trial to a paid plan in order to maximize their affiliate earnings. If you own a SaaS business, building the right blocks of content, marketing, and sales through affiliate channels can define success or failure in the long term. 
Partnerlaunch can help you deconstruct your affiliate marketing problem, measure progress and give you the data to optimize your value deliverables across digital channels. The SaaS space is rapidly expanding with thousands of new businesses being launched in every industry every single day. As a result, getting the right word and having the tools to optimize your message as it evolves is important for your success. 
How affiliate marketing works (Skip this part if you already know)
While the process of affiliating can be a bit technical, you do not have to learn about all the details before you can get started. Here is a simple way of how marketing works:
When you (a business owner) completely develop your affiliate marketing program, you offer links to affiliates and or blog owners who will add the links to their content properties. 

Your affiliates will add the links of your products/services to be promoted in blog posts, email campaigns, or social media platforms, and invite their audience to click on the link and find out about the product.

When potential buyers click on your unique link, they are redirected to your business website or landing page. From there, a cookie, which identifies the affiliate, is placed on the visitors' personal computer.

The cookies ensure that you can track the sales, commissions, and performance of your affiliates.  
Conclusion
Today, businesses worldwide rely on the seamless structure of affiliate marketing to convert new customers, sell to old ones, and build a credible brand. Affiliate marketing provides the tools to scale up traditional word of mouth efforts and create a mutually beneficial ecosystem of vendors and their affiliates. Although affiliate marketing is not as simple as firing up your Google Adsense account with ad products or getting a casual to hold up an arrow in front of your business, with a fair bit of persistence and the right tool kit, it is possible to succeed. You can end up turning this side hustle into a full-time online business.
The key to success with affiliate marketing is developing the right content distribution and data monitoring framework that provides your brand exposure, market intelligence, and sales in one simple package. While massive companies like Walmart and Amazon can afford to build massive data pits, manage servers, and expensive IT talent, you're better off with a more incisive strategy. If you're looking to focus on service delivery, customer happiness, and other issues at the top of the funnel, Partnerlaunch can help you automate your affiliate marketing infrastructure while you focus on building business.