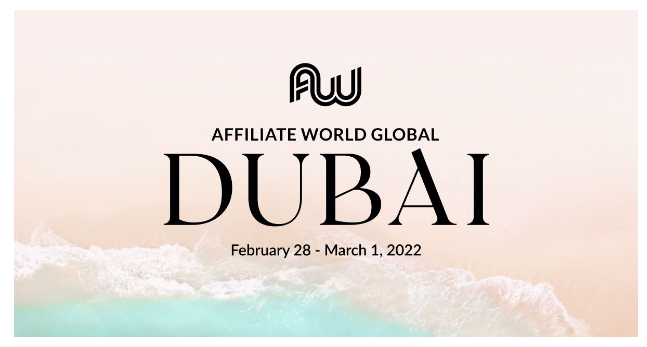 For two years, Affiliate World (AW) had to cancel their events because of COVID-19. So, when we discovered that AW would be in Dubai, we booked our tickets right away. AW is, as Neil Patel describes it, "a must-attend event," so as affiliate marketers, we knew we couldn't miss it. 
From February 28 to March 1, we were treated to multiple panels and networking opportunities set against the backdrop of the Dubai World Trade Center. 
If you weren't able to go to the Affiliate World Global in Dubai, don't worry. We're writing this Affiliate World Dubai recap so you can catch you up on what you missed, so you'll know what to expect at the next AW.
What is Affiliate World?
Affiliate World is a world-class event that brings together marketers from around the globe. The event has been held bi-annually since 2015, and since then, it has been attended by thousands of top affiliate networks, e-commerce marketers, and more.
Venue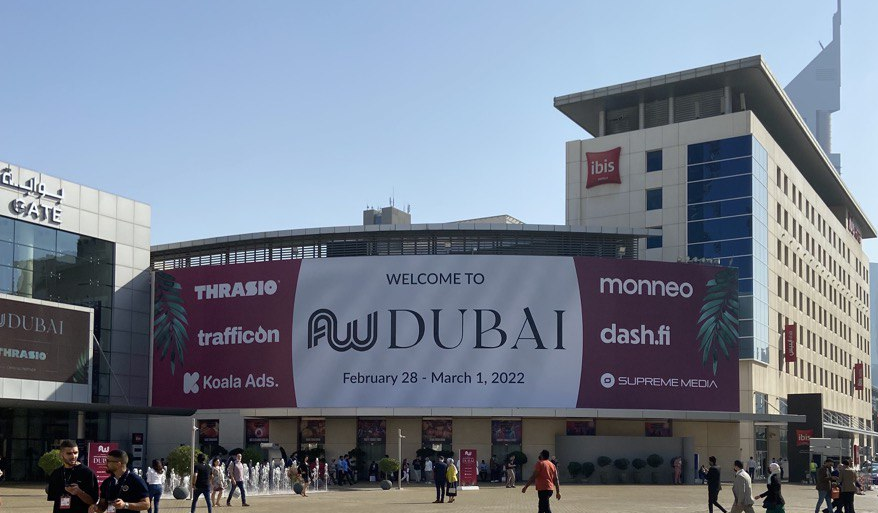 The very first AW conference since COVID-19 was set in Dubai, which welcomed us with bright lights. 
AW hit pause for two-or-so years, so it was only appropriate that they'd bring it back with a bang. Dubai was the perfect place for that. There's no doubt that Dubai is a big stage that's ideal for a conference of such a scale. 
We landed in Dubai a day before our conference, so we had a bit of time to be touristy. The best part? All AW attendees got fifteen percent off of tickets to attractions like the Burj Khalifa. 
Tickets to AW cost over $1,500 (but can be much cheaper the earlier you buy them), which isn't exactly cheap, but for the value we got, it was a bang for our buck! 
Attendees
When we signed up for the AW Global, we were told that it was going to be the largest affiliate marketing event we'd ever go to. They weren't kidding. 
The turnout was massive – over 6,648 marketers and e-commerce entrepreneurs and 470 companies came to the event. The turnout was the biggest number AW has seen by far. It was overwhelming (in a good way). 
Networking Opportunities
Networking was a no-brainer at the AW Global in Dubai. With AW Global's networking app (which only opened 24 hrs before the show), connecting with exhibitors and booking meetings with event goers was extremely convenient. It even had a "Virtual Handshake" feature (after all, this was still post-coronavirus) that allowed you to add an attendee to your in-app network. 
If you wanted a laid-back way to network, you could go to one of the AW Global meet-ups. They were sponsored by ClickBid, Converting Team, and more. However, they were all invite-only. 
In our opinion, the best opportunity to network was in the ClickBid meetup. The meetup was massive and was attended by almost all of the affiliates, advertisers and affiliate networks that were attending the show. As a bonus, it was on a boat and backdropped by the Dubai Marina – the perfect way to end the day.
AW Global also scheduled the Sundown Sessions at Surf Club on the first day (February 28th). Sponsored by 360 Affiliates, it was another place for you to connect with other attendees over a drink and a view of the world's largest Ferris Wheel. 
If you couldn't go to any of those, AW Global still had plenty more networking opportunities to offer. They were split into four tracks, specifically Lead Generation, Facebook Ads, E-Commerce, and STM. These meet-ups were called "Mixers," and you could pick and choose which one/s to attend. 
Panel Highlights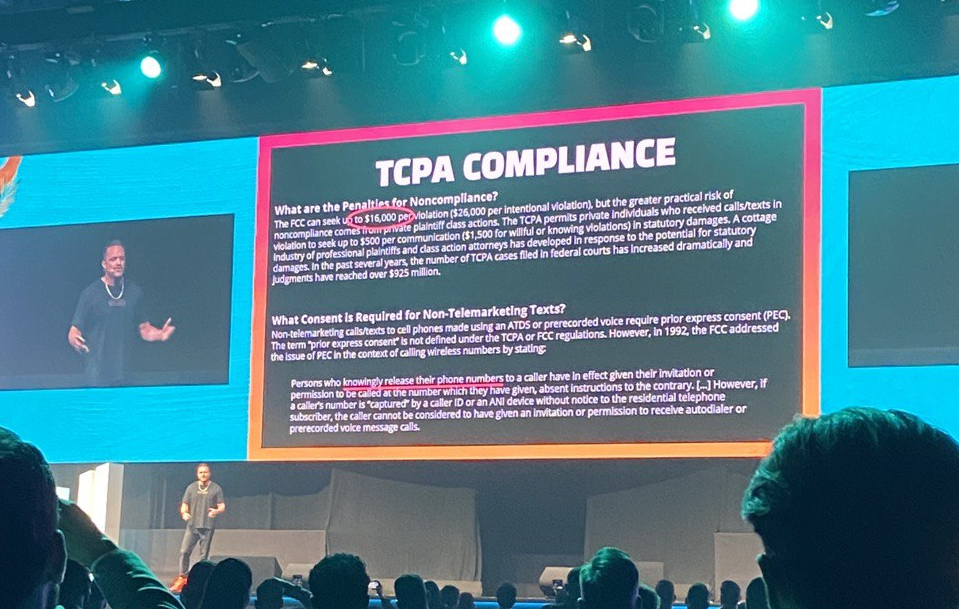 Panels at the AW Global in Dubai were divided into three categories: Facebook Ads, Lead Generation, and E-Commerce. The first two tracks had five speakers each, but the event clearly put e-commerce on priority, as it had more sessions under it.  Nevertheless, we found every track insightful.
All of AW Global's panels were streamed online, so we could watch it wherever we were – even if we were winding down at the Beer Garden. 
Apart from the panels, there were also break-out sessions at the Breakout Stage. Here are our top three favorite topics from AW Global:
How to Lower Your CPAs: Apply Insider Hacks on Increasing Tracking & Attribution to Drive Down Costs
Maor Benaim discussed how we can (and should) spend fewer ad dollars. He shared with us the possible reasons why our remarketing campaigns were going wrong and what we can do better. 
Maor also shared a few useful hacks on how to attract new customers while driving down costs. 
Top Affiliate Marketing Trends in 2022 to Watch, Prepare For & Avoid
Olivier Bourque, VP of marketing at CrakMedia, explained how we shouldn't allow trends to take over. In addition, he shared how trends shouldn't comprise the whole strategy but be a mere component of the strategy. 
Going into 2022, we found his points insightful – we're going to be applying them to our marketing campaigns. 
$100M Ad Creative Study: The 4 Foundational Copy Types
Travis Chambers, founder of Chamber.Media, gave us the lowdown on what four copy types to focus on in 2022. It was interesting to see how benefit-based copy outperforms other ad copy types. 
In total, there were 32 topics discussed during the AW Global in Dubai. Although we appreciate the wide range of topics, the downside was that it felt too overwhelming. 
There was one time when we wanted to go to the break-out stage, but we didn't want to leave the "primary" panel, either. In our opinion, AW Global would have been better if the schedule wasn't that tight. 
Exhibitors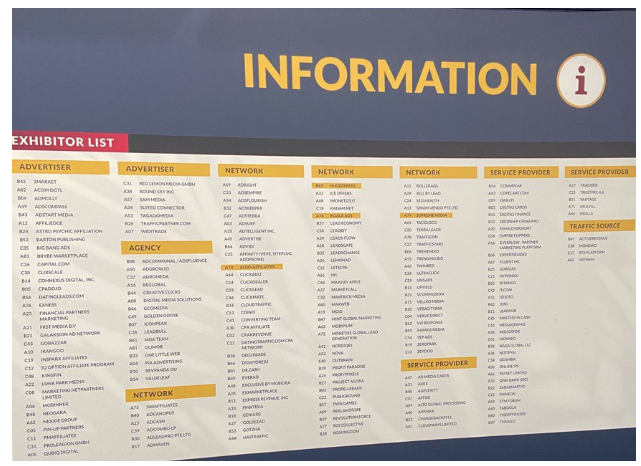 There were more than 200 exhibitors at "The Market," AW Global's exhibition area. They were primarily affiliate networks such as 360 Affiliates and Algo Affiliates, with a couple of service providers such as TrustPay and Everflow. 
There were also a handful of traffic sources such as Active Revenue and RTX Platform, and agencies such as GCG Media and Creative Clicks. You can view the exact lineup of exhibitors on the AW Website. 
The Market was the social hub. It was the place to be if you wanted to meet potential clients, and establish connections with potential partners. In the middle of the exhibition floor were tables where you could talk about business.
Our Thoughts on Affiliate World Global
Affiliate World Global was so-so. Compared to Lead Generation World San Diego, which was focused on one niche, AW was all over the place when it came to topics. 
Again, it was too overwhelming, and it attempted too many things at the same time. Maybe it would be better if they improved the pace. 
Who Should Go to Affiliate World Conferences?
Go if you want to get a lot of general knowledge. For the range of topics and the creme of the crop of speakers, the Affiliate World Conference is well worth your money. 
With that said, if you're interested in only one of the tracks (e-commerce, for example), it's too expensive – in our opinion, anyway. However, if you're looking forward to the wealth of knowledge you'll get, it's worth it. 
Missed Affiliate World Global 2022?
If you missed AW in Dubai, don't worry. As we said, AW is a bi-annual event. Buy tickets to the AW in Europe, which will be held from July 6 to 7, 2022, in Barcelona. Some of the speakers at AW Dubai will also speak at AW Europe, so it'll be like you didn't miss it at all!