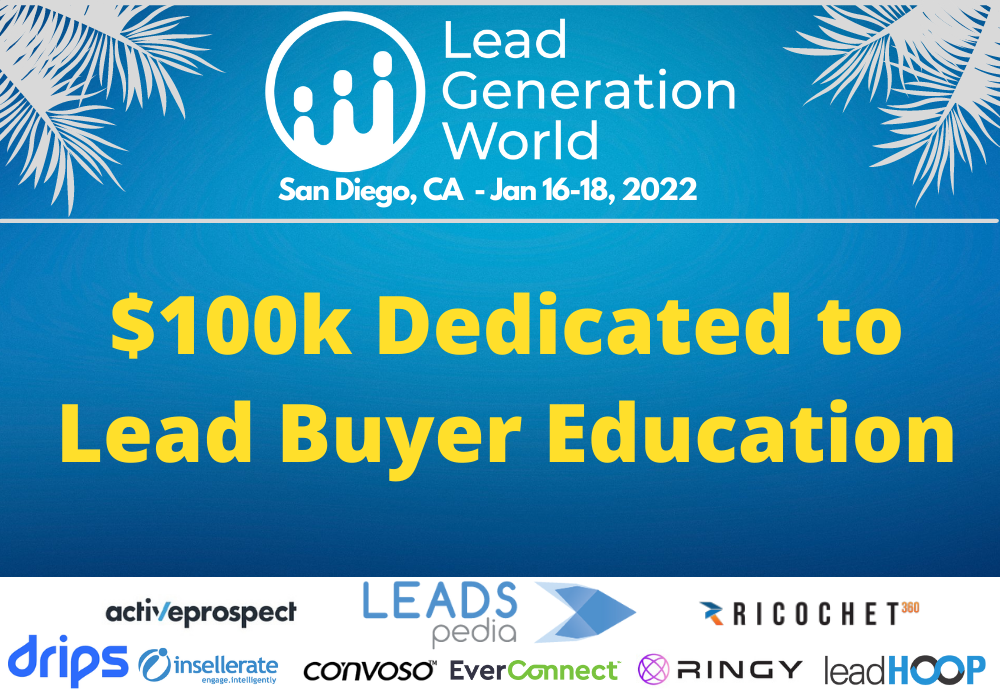 Lead Generation World 2022 was a two-day event from January 16 to 18, 2022, in sunny San Diego. 
It was the perfect backdrop for this laid-back event that brought together marketers, thought leaders, and lead generation experts from all over the world. We aren't kidding when we say it was laid-back. They kicked it off with a reggae registration party sponsored by Vocodia. 
Having attended Affiliate Summit, Leadscon, and Affiliate World, we knew that the LGW Conference 2022 wasn't going to be on a "grander" scale, but we were very surprised by the quality of the attendees. 
The best way to describe it would be to say that it's one of the greatest networking events ever. Anyone with an interest in the lead generation space can take part in it, particularly marketers who want to stay up-to-date on industry trends in the space. 
But it's beneficial for people who want to swap business cards and brush elbows with c-level executives and compliance professionals in the lead generation space. 
Venue 
The LGW Conference 2022 took place at the Town & Country Resort in San Diego, which is  "America's Finest City". Some of the attendees stayed at the resort, but we opted to stay at a nearby Airbnb because we wanted to be closer to Mission Beach. 
Attendees
More than 800 people participated in the LGW Conference 2022. Admittedly, it wasn't the biggest turnout. 
We've been to conferences such as Affiliate World before, which had a lot more attendees. However, what impressed us was that LGW managed to get world-renowned thought leaders together. That made up for the number of people present. 
With that said, if you want to attend a conference with people at the top of their profession, go to the LGW Conference. Like us, you'll be starstruck by the people you'll bump into. LGW may not be the biggest event, but it's well worth your money for the value you get. 
Speakers
On the first "official" day of the conference was a diversity, equity, and inclusion (DE&I) breakfast at ARLO (fancy, we know). A keynote from the Daymond John (yes, the Daymond John from ABC's Shark Tank) followed this, where he talked about how he started FUBU. 
Hearing how he was able to turn $40 into $6 billion with no business background whatsoever was very motivating.  Unlike some speakers, Daymond didn't sugarcoat – he told us what we needed to hear, which is that we had to set realistic goals and realistic strategies, or else we'd be going nowhere. The affiliate marketing aspect of it was particularly helpful to us as marketers. 
One of the great things about LGW is that none of the panels overlap – that meant people could attend all panels (there were more than twenty of them!). So, from January 16 to 18, panels were covering a wide range of topics, including lead generation (of course), insurance, mortgage, legal compliance, and more. 
Panel Highlights
We weren't able to attend all of the panels as we preferred to participate in meet-ups (more on that later). Plus,  we already arranged meetings with some of the LGW guests beforehand. 
For the panels that we did attend (mostly email marketing-oriented), the speakers covered various noteworthy topics, such as:
Performance-based email marketing and how to maximize inbox rates

Strategies on how to scale permission-based marketing

Data privacy regulations relevant to SMS marketing

Developments in SMS marketing 

…and many more
The "Future of Email Marketing in a More Privacy-Centric World" panel was most noteworthy to us as it discussed how email marketers could adapt to current data privacy laws. 
Considering that our company deals with large amounts of consumer data regularly, we were interested in how we could navigate the ever-evolving challenges. By doing so, we could continue to provide premier email automation services. 
"Learn How Engagement Is Radically Transforming Conversions" was also a stand-out panel for us, as not only did we get to meet Josh Friend (Insellerate), but we also got to understand how to raise engagement rates.  
Exhibitors
The exhibit hall was cramped with companies (mostly service providers) such as Convoso, Leadspedia, Active Prospect, and Drips. We didn't explore the exhibit hall, as we were more interested in the panels and meet-ups, but it was nice to see what was new in the industry. 
Networking and Meet-Ups
One of the best things about LGW has got to be networking. There were tiki bars, tables, etc., all over the venue. These encouraged you to connect with potential clients and colleagues in an unconventional way.  
Overall, it provided a laid-back vibe that enabled you to trade business cards with like-minded people. It also invited you to have a drink (or two) as you talk about business.
In addition, LGW arranged "official" Meet-Ups for a wide range of industries. This included mortgage, insurance, lead aggregation, pay-per-call, and debt and legal. Companies such as EDM Network, Ringy, and Litigation Practice Group sponsored the Meet-Ups. 
Our Personal Takeaways From the LGW Conference 2022
Here are our takeaways from the LGW Conference 2022 as an affiliate marketing company:
Networking is Key
If there's anything that LGW taught our team, it's that you need to get out there and network. So, it was the perfect opportunity to connect with potential partners who could generate more leads for our company. We weren't going to let that go to waste!
Through the LGW Conference 2022, we were able to get out of our comfort zone. We also connected with people with the potential to become our clients in the insurance, mortgage, and legal space. 
We will take the learnings we got directly from decision-makers to grow our affiliate marketing group. 
Calls Are King
The majority of insurance and mortgage attendees we met were actively looking for partners to drive calls to the call center on a performance basis. 
The main reason for this is the direct connection to a lead as well as the opportunity to pitch and close them on the spot vs. a form field lead, which tends to have a 20-30% contact rate while they're still covering the full cost of the lead.
The Carolina Panthers Surprisingly Uses Lead Generation
As a "bonus" takeaway, we found out that the National Football League's (NFL) Carolina Panthers leverages lead generation strategies to boost ticket sales, brand partnerships, and more. Who would've thought? 
How to Attend the Lead Generation World Conference
If you missed this year's Lead Generation World Conference, don't worry. They host the event every year. You can pre-register as early as today for the Lead Generation World Conference 2023 on their official website. 
An all-access pass is priced at $645, but here's the catch — you can buy the "Early Bird" pass today for only $445. That's $200 in savings – money you can spend to participate in the official golf tournament. 
Would We Attend the LGW Conference Again?
Absolutely! To us, it was worthwhile due to the decision-makers that attended. We were able to meet multiple c-level people who helped us move deals forward that we had pending. Plus, we got to meet with new people whom we had not met or heard of prior to the event. These were people who could potentially become our clients. 
See you at the Lead Generation World Conference in 2023!